Un mot du directeur général
Ensemble, poursuivons l'élan engagé contre le VIH et le sida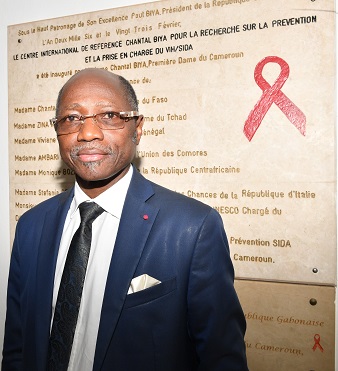 Chers utilisateurs,
Chers Partenaires,
La lutte de l'humanité contre la pandémie de VIH depuis un peu plus de trois ans vu l'implication d'acteurs majeurs et clés. Au tout début de ce combat, il éprouve déjà d'inverser les tendances, avec l'intention de donner de l'espoir aux patients, à la société et à tous nos partenaires.
C'est dans cet élan que la Première Dame du Cameroun, Madame Chantal BIYA, a pesé de tout son poids pour offrir au Cameroun, à l'Afrique et au monde une lueur d'espoir en créant ce Centre de Recherche qui porte son nom de famille. Le CBIRC a en effet été créé en 2006 et avait pour vocation de mutualiser les efforts des Camerounais et des partenaires pour une dynamique significative de lutte contre le VIH / SIDA.
Doté de laboratoires modernes et d'une plateforme technique de haut niveau à la mesure de ses missions, le CBIRC entend ainsi jouer pleinement son rôle dans la lutte universelle contre ce fléau transfrontalier commun de l'infection à VIH. À cette fin, les programmes de recherche et les activités de routine qui y sont menées visent principalement le bien-être des personnes infectées et / ou affectées par le VIH.
Dans cette action, une part essentielle est donnée au partenariat scientifique et le CBIRC entend développer davantage ses collaborations tant au niveau national qu'international. Par ailleurs, l'expertise des chercheurs du CBIRC, constamment renforcée avec la collaboration de nos différents partenaires, constitue un réel atout pour le développement de notre Centre.
C'est en effet ensemble que nous pouvons réussir à donner corps à l'un des grands espoirs de notre temps, comme la marraine du CBIRC, Madame Chantal Biya, l'avait déjà imaginé lors de l'inauguration de ce Centre lorsqu'elle disait:
« Je suis convaincu que grâce à notre mobilisation, notre volonté commune et notre détermination, nous pourrons faire en sorte que [le CBIRC réponde aux attentes de nos populations. Alors peut-être un jour, pourquoi pas, grâce au travail de ce Centre , combiné avec celui de la communauté mondiale, nous vaincrons le sida » .
C'est cette vision que le CBIRC s'emploie à communiquer à tous les Camerounais et à ses partenaires. Nos efforts communs doivent contribuer à atteindre cet objectif.
Notre lutte contre le VIH / sida est difficile, mais nous pouvons la gagner.
Pr Alexis NDJOLO
Directeur général CBIRCB
Présentation
Le Centre International de Référence de Recherche sur la Prévention et la Gestion du VIH / SIDA "Chantal Biya" (CBIRC) est un type particulier d'Etablissement Public Administratif (PAE), placé sous la tutelle technique du Ministère de la Santé Publique. et la supervision financière du ministère des Finances.
Le CBIRC est une structure publique de recherche multidisciplinaire à vocation nationale et internationale, dont l'objectif général est d'améliorer les connaissances et la qualité des soins destinés aux personnes infectées par le VIH / SIDA.
Historique
Le Centre International de Référence "Chantal BIYA" pour la recherche sur la prévention et la gestion du VIH / SIDA (CBIRC) est l'aboutissement des efforts de la Première Dame du Cameroun, Madame Chantal BIYA, Ambassadrice de bonne volonté de l'UNESCO .
Inauguré le 23 février 2006, le CBIRC est le fruit d'un immense plaidoyer initié par les Premières Dames d'Afrique, à travers l'ONG africaine. Synergies, en direction d'un certain nombre de partenaires: Gouvernements camerounais et italien, World Foundation AIDS Research and Prevention, UNESCO, Institute of Human Virology.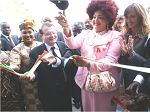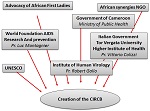 Organigramme